New XM/Sirius Raidio App In Production

XM first announced that they were creating an official XM Radio client for the iPhone and iPod touch back in June, but little was heard from the company since then on an official app. More recently, however, information was leaked that GeeksToolBox is working on an app called StarPlayr as part of the StreamSmart project. It is suspected that it is in partnership with NiceMac because of their audio streaming Mac app by the same name.

According to the source, the app is performing well in the area of battery life, one of the main concerns with the app, which is due to it streaming in an compatible audio format rather than an incompatible one that then has to be decoded in real time on the device. XM and Sirius have yet to confirm it as the official app mentioned by XM in June.
---

LABJ: Apple's iPod Changing the Radio Business
Radio stations used to be where people tuned in to hear their favorite songs, according to the Los Angeles Business Journal on Monday. Nowadays, people listen to their favorite songs on an iPod, so radio stations have had to change, take chances, and work harder to please their customers.
Traditional radio stations are feeling the pinch as most new cars are fitted with iPod connectors. The average radio listening is down to 19 hours a week compared to its peak in the 1990s when it was 22 hours, according to the Southern California Broadcasters Association.
Commuters in their cars are always looking for something to help with that boring ride to work, and, these days, luring them away from their smartphone and iPod in innovative ways is the latest challenge for radio stations of all kinds, including satellite radio.
---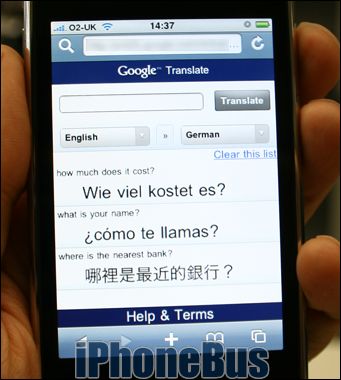 Google Translate comes to the iPhone
Ever tried to convince a Bulgarian that you were the real Slim Shady? No? Either way,we were all got stuck ordering a bottle of the local plonk on holiday or at the local Italian eatery. But wouldnt it be cool if you could use your phone to get around these awkward moments? Step forward Google, which has created a mobile version of its Translation service for iPhone users.

The Google Translate mobile service works almost exactly like the desktop version. Simply type in a word or phrase, select the language you wish to translate it to and hit Translate. It deciphers both single words and entire phrases from 24 different languages including Chinese, French, Japanese and, er, Finnish. But unlike those electronic dictionaries you can buy at airports, youre not tethered to a few pre-selected phrases the database is so large, Google didnt know how many words are in it when we wrote this.
The whole thing works using the iPhones Safari browser, which means that you need a data connection to use the service. But once youve searched for a word or phrase, its stored in the iPhones memory and can be accessed again without a data connection. Of course, youre most likely to use this service when youre abroad, so you will incur roaming data charges. Google wouldnt quantify how much data is used, except to say that it is minimal, so hopefully your phone bill wont be too high when you get home.